Stop Press – schools interactive visits to Papplewick Pumping Station 2018-21
A Crack in Time - Nottinghamshire Heritage Award Winner 2014
Dragon Breath and Papplewick Pumping Station Trust are offering a new day-long Teacher Led (KS2/3) experience at Papplewick, from May to October 2018 (extending to 2021).
The day long visit is led by the class teacher, but supported by an actor/interpreter and Papplewick volunteers, who facilitate students' investigation of the site, it's local, social and engineering history, and its significance as a site for considering the management of global water resources today.
The visit, which has been devised in collaboration with the Papplewick teachers' focus group, draws on Dragon Breath's award-winning, dramatised historical account (A Crack in Time 2015) of this important local heritage site, and includes a trip to Papplewick's unique underground water reservoir.
See documentary video for A Crack in Time 2015.
Guided by the museum interpreter and school staff, pupils will encounter the buildings, objects, installations and new media to stimulate their interest in the site with hands on activities.
The visit is supported by extensive online curriculum resources offering a water based curriculum including English, Science, History, Geography and Maths.
These can be used in conjunction with the University of Nottingham's new Learning About Water Toolkit. This offers a module supporting the development of a water curriculum alongside your visit to Papplewick. We will add the link on publication in autumn 2017. Please refer to the University of Nottingham's GetWet.org site for their previous linked work.
To express an interest, or find out more about the visit and booking, please email the Artistic Directors, Peter Rumney and Nettie Scriven at
A Crack in Time, 2013 onwards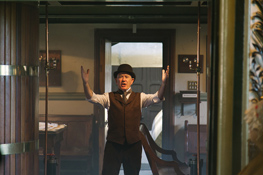 Click image for full poster:
Click for the A Crack in Time 2015 Documentary Video.
Click for the A Crack in Time 2015 Map and full production credits.
Click for the A Crack in Time 2015 Education Resource Page.
A Crack in Time 2015, our day long immersive performance brought the amazing Papplewick Pumping Station to life, and played to packed audiences of young people and family audiences from around the East Midlands during the summer of 2015. It won the Nottinghamshire Heritage Award for a Special Project in 2014.
The company brought this beautiful Victorian heritage site to life through live performance, film, music and participatory activities to over 1500 young people.
Developed at Papplewick over a period of four years, A Crack in Time, explored local history and global water issues in Papplewick's magnificent engine house, ornamental grounds and unique underground reservoir.
In the performance, the audience met a host of Victorian characters, including Wilf the boiler boy, Jenny Sparrow from Narrow Marsh, Seth the Gardner, Mrs Montagu the Superintendent's wife, real life inspirational Nottingham-born engineer Thomas Hawksley, a mysterious contemporary Water Guardian, and others, who brought the history of the pumping station to life.
The project was written by Peter Rumney, designed by Nettie Scriven, and directed by Rosamunde Hutt. Music was composed music by Helen Chadwick and Duncan Chave; media by Creative Forum and lighting design by Richard Statham.
The professional cast of Nia Davies, Bhawna Bhawsar, Becky Matter, John O'Mahony and Peter Rumney were supported by Museum Director Ashley Smart, Papplewick volunteers Gerry Barnes, Sharon Barnes, Lisa Brown, Paul Clark, and Sue Wright, and the production team of Alistair Richardson Laurens (Bungo), Patricia Davenport and George Gough.
For more information on the project, the education programme that supports it, and full production credits, please see next column.
Audience Responses:
"A memorable and informative and multi-sensory experience, using theatre, song , interactive performance and beautiful historic spaces to bring history to life" Audience member, Wheee! Festival
"An enormously impressive example of engaging young people in heritage and history… Professor David Stocker, Heritage Lottery Fund
"Working with a professional theatre company over the past two years to create an event like this is a wonderful way to bring young people into the museum, and introduce them to their local history and heritage in an imaginative and entertaining way." Ashley Smart Director, Papplewick Pumping Station Museum
"It's eerie…I've never been in the past before!" Child, aged 8
"It's the best school trip I've ever been on." Child, aged 9
"We are all still buzzing from the day. It was truly fabulous." Teacher, Nottingham
"Thank you for a magical experience yesterday. … We really enjoyed the day and found the whole experience absorbing and enjoyable, and that's from a personal view, not speaking as teachers or heritage educators!" National Trust Learning Officer
Acknowledgements:
The 2015 A Crack Time project was funded by Arts Council England, the National Lottery Heritage Fund, and Garfield Weston Museum Development East Midlands, and supported by Nottingham Lakeside Arts Centre Wheee! Festival, The Spark Arts for Children, the University of Nottingham and Nottingham Trent University School of Art & Design, and the Papplewick Pumping Station Trust.